In addition to stopping by to pick flowers, Dahlia Acres also has an event called "Bouquets & Bottles" (which I hear is a HUGE hit), here's some info that I picked up from their website:
Join us in making a beautiful bouquet!
Bring a friend and a bottle of wine, and try your hand at making a floral arrangement. We will be demonstrating throughout the event, but it is up to you to get creative. We will provide all you need for your arrangement, a vase, all the cut flowers you will need, and scissors.
We will also have light snacks and bottled water…
The cost is $35 a person. Class sizes are 15-20 people.
Reserve your spot by:
call/text Marcy: 616-834-2672
email: dahliaacres15@gmail.com
Payment requested at RSVP- checks can be mailed to
Marcy Krause
7577 Buchanan Street
Allendale, MI 49401
Questions welcome here, or through Marcy's contact information as above.
Available dates for July-
July 24th (Monday) 6pm-8pm
July 29th (Saturday) 11am-1pm
July 31st (Monday) 6pm-8pm
Future dates to be added.
You may also inquire about a private party.
Free Dahlia Care Tips from Dahlia Acres
Dahlia flowers come in a variety of colors and shapes. They are beautiful blooms but do require more care than other flower types. We want to share our dahlia care and handling tips.
Dahlias will hydrate better in warm water. Make sure your vase is clean and filled with at least 3"-4" of warm water.
Carefully separate the stems and remove any lower foliage that would fall below the water line.
Give each stem a clean diagonal cut. Cut at least 1" off each stem and quickly place in water.
Recut the stems and change the water daily. This will prevent bacteria from forming and clogging the stems.
Keep dahlias in a cool area, away from direct sunlight.
Dahlia Acres also sells to local florists and at farmer's markets in Grand Haven, Muskegon, South Haven and Spring Lake. They are open to the public Monday-Friday from 9:00am – 8:00pm, starting August 1, 2017 through mid-October, 2017. Please call ahead to make an appointment by calling Marcy at 616-834-2672 or emailing dahliaacres15@gmail.com. For additional details, you can visit their website at dahliaacresfarm.com. The address is: 7577 Buchanan Street
Allendale, MI 49401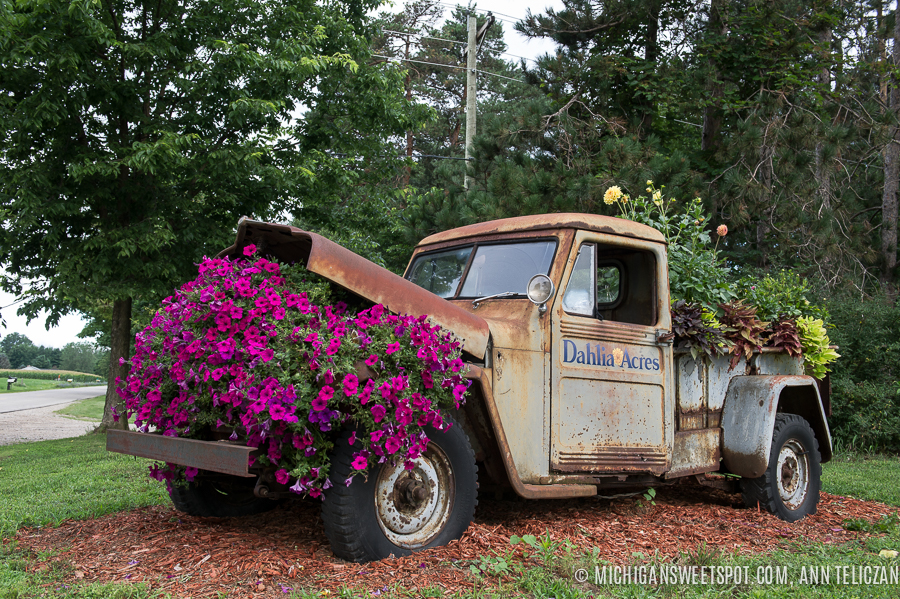 Making the most of your Michigan summer should include going to places that embrace Michigan's farmland, and the wonderful growing season we have here. Dahlia Acres farm in Allendale, MI is a great place to have that experience. You'll walk away with more than memories because you can also pick and buy your own flowers, with over 50 varieties of dahlias, there's a lot to choose from!